Robinson Township Board Meeting
The next regular meeting of the Robinson Township Board will be held on  Wednesday, February 8, 2022 at 7:00 pm at the Robinson Township Hall, 12010 120th Ave, Grand Haven, MI 49417. 
---
Robinson Township Office Information

Robinson Township and Loutit Library have partnered for events at our township hall. Check out our calendar or  Township News & Information under Loutit Library for future events starting with February 9, 2023 @ 6:30 p.m. – DIY Folded Book Heart
The drop box is located between the township office and the fire station for after hours drop-offs.
Township News
&

Information
Robinson Township Park
The Robinson township park gate is closed for the winter season as of December 1, 2022.
You are still able to access the park for walking or playground activities.
You may park outside the gate or you can use the township parking area and walk across.
Road Brining 2023
Road Brining dates for 2023:
Tuesday – June 6, 2023
Friday – June 30, 2023
Wednesday – August 2, 2023
Thursday – August 31, 2023
Ottawa County Groundwater Dispute
Four Pointes - Center for Successful Aging
Four Pointes is excited to continue to meet the needs of seniors in your area! Seniors can find us online by following the Link below:
Ottawa County's Website - Securing Your Vote
Ottawa County has created a website which explains in detail how we make sure elections are secure while at the same time making sure every vote counts.
The link to this website is here:
LAKE MICHIGAN WATER SAFETY
Senior Resources
Contact Senior Resources for their Caregiver-Link Newsletter kport@seniorresourceswmi.org
This is a very helpful and full of information newsletter that can be mailed to you or received by email.
Robinson Township Cemetery
*Please remove items from gravesites for the winter season, Thank you!
Water spigot's are located along the north fence line of the cemetery.
* Water will be turned off for the winter season.
Flag Retirement Box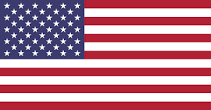 Through a partnership with the National Flag Foundation and the National Sheriff's Association, the National Association of Counties is providing free flag retirement boxes to member counties, including Ottawa.
Flags deposited in the boxes will be collected and respectfully disposed of according to the U.S. Flag Code. Depending upon response, the Ottawa County box will be rotated on a monthly basis among County facilities. To start, it will be placed in the lobby of the Fillmore Administration Building near the boardroom.
For more information, visit miottawa.org.
Robinson Township History Books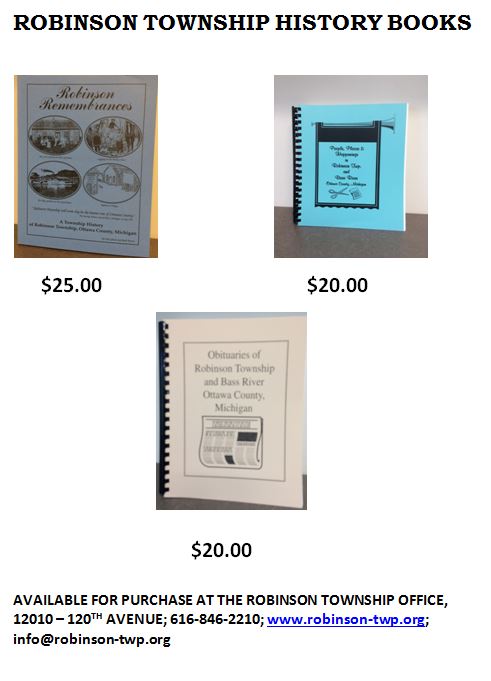 Medication Disposal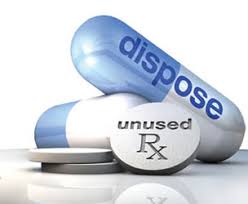 Medication Disposal
Don't Flush unwanted meds!…instead, safely dispose of your personal medications at any of the listed sites located in Holland, Grand Haven, Spring Lake and Hudsonville during regular business hours.  Call for their latest hours.
Grand Haven Township Admin Office:  13300 168th Ave. (616) 842-5988.
Grand Haven Police Dept. Admin Office:  525 Washington Ave.  (616) 842-3460.
Spring Lake Police Dept. Admin. Office:  102 W. Savidge St. (616) 842-1889.
Holland:  12251 James St.  (616) 396-5266.
Hudsonville:  3100 Port Sheldon Rd.  (616) 669-0040.
Please remove pills from the pill bottles and place them in a plastic bag before dropping them off at the site of your choosing.  If you have questions about the Ottawa County's unwanted medication collection program, please call 616-393-5645
Clean-up Our River Environment – www.COREmichigan.org
Invasive Species Alert - Spongy Moth
Changes for Area Code Dialing
Michigan Township Insights
10-digit dialing to be required for all calls in 616, 810, 906 and 989 area codes
Michiganders in the 616, 810, 906 and 989 area codes will have to use those area codes when dialing even for local calls starting on Oct. 24 this year, the Michigan Public Service Commission recently announced. However, callers are urged to start dialing all 10 digits beginning April 24 to get used to the new requirement. People who dial only seven digits will still be connected during this "permissive dialing period." However, on Oct. 24, the change becomes official, and local calls dialed with only seven digits may not be completed. The reason for the change is that 988 has been designated by the federal government as the abbreviated three-digit code to reach the National Suicide Prevention Lifeline. Any area code that includes the 988 prefix must transition from seven-digit dialing to 10-digit dialing. Customers in other Michigan area codes aren't affected by these changes at this time.