Robinson Township Board Meeting
The next regular meeting of the Robinson Township Board will be held on  Wednesday, August 11, 2021 at 7:00 pm at the Robinson Township Hall, 12010 120th Ave, Grand Haven, MI 49417. 
Remote viewing will be provided via Zoom, Meeting ID # 897 4395588 passcode : Robinson  Phone: 1 646 558 8656, Meeting ID #897 439 5588; Phone passcode: 52478095
---
Robinson Township Office Information

The Robinson Township Planning Commission Board and the Park Board  are in need of filling a seat with a member for each board. Please contact the supervisor Frank Johnson if you are interested.
The drop box is located between the township office and the fire station for after hours drop-offs.
Township News
&

Information
Broadband Internet Survey
ROAD CONSTRUCTION NOTICE
The Ottawa County Road Commission has scheduled road reconstruction on 104th Avenue between
M-45 and Pierce Street. The anticipated construction start date is Monday, June 21, 2021. The anticipated completion of the project is August 27, 2021. The road will be closed to thru traffic, access will be maintained to your driveway.
Scrap Tire Recycling
2021 Road Brining
Road Brining 2021 Schedule
May 14, 2021
July 2, 2021
August 20, 2021
LAKE MICHIGAN WATER SAFETY
Master Land Use Plan Update - Workshops
Robinson Township Planning Commission
Master Land Use Plan Update

UPCOMING PUBLIC WORKSHOPS!
Thank you for completing the Robinson Township community survey. The next public participation opportunities are coming up in July! Three separate workshops will be held to discuss agricultural lands, residential uses, and the commercial overlay district on M-231. The workshops will be held on the following dates in the evening. Workshop locations will be held at Robinson Baptist Church gymnasium from 6:30 pm to 9:00 pm. If you plan to attend, please RSVP to robinsonmasterplan@gmail.com or 616-846-2210 no later than the day prior to the workshop!
Tuesday, July 6th – Agricultural lands
Thursday, July 8th – Residential uses
Thursday, July 29th – Commercial Overlay District  
For updates and information about the Master Plan process, please be sure to visit the following social media pages or the project website with the QR Code or link below:
https://www.freshcoastplanning.com/planrobinson 
Thank  you for your contributions to this process!
Ottawa County's Website - Securing Your Vote
Ottawa County has created a website which explains in detail how we make sure elections are secure while at the same time making sure every vote counts.
The link to this website is here:
Water at the Cemetery
Water spigot's are located along the north fence line of the cemetery.
PFAS
On October 29, Robinson Township was informed that the Ottawa County Department of Public Health and Grand Haven Public Schools were notified of elevated levels of PFAS at Grand Haven's Robinson Elementary School. School leaders immediately restricted access to drinking water in the building; bottled water is being provided to the school. Other than Robinson Elementary, all other schools in the Grand Haven Public School District are served by Northwest Ottawa Water System. This system has been tested and the results were as below health advisory levels.
The Ottawa County Department of Public Health (OCDPH) is working with the Michigan Department of Health and Human Services (MDHHS), Michigan Department of Environmental Quality (MDEQ), Grand Haven Area Public Schools (GHAPS) and Robinson Township to take appropriate measures and develop an action plan to help ensure the water residents are drinking meets appropriate state and federal standards.
For more information, click here:
Flag Retirement Box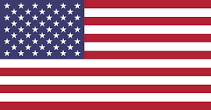 Through a partnership with the National Flag Foundation and the National Sheriff's Association, the National Association of Counties is providing free flag retirement boxes to member counties, including Ottawa.
Flags deposited in the boxes will be collected and respectfully disposed of according to the U.S. Flag Code. Depending upon response, the Ottawa County box will be rotated on a monthly basis among County facilities. To start, it will be placed in the lobby of the Fillmore Administration Building near the boardroom.
For more information, visit miottawa.org.
Robinson Township History Books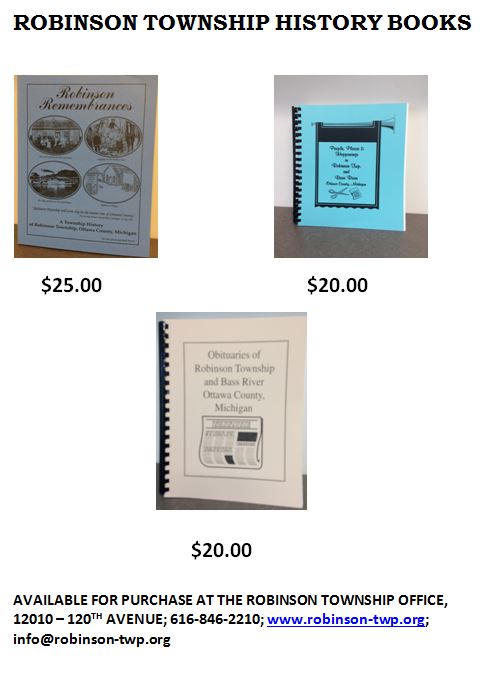 Medication Disposal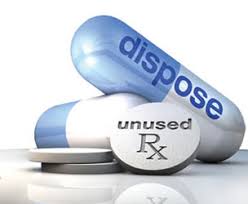 Medication Disposal
Don't Flush unwanted meds!…instead, safely dispose of your personal medications at any of the listed sites located in Holland, Grand Haven, Spring Lake and Hudsonville during regular business hours.  Call for their latest hours.
Grand Haven Township Admin Office:  13300 168th Ave. (616) 842-5988.
Grand Haven Police Dept. Admin Office:  525 Washington Ave.  (616) 842-3460.
Spring Lake Police Dept. Admin. Office:  102 W. Savidge St. (616) 842-1889.
Holland:  12251 James St.  (616) 396-5266.
Hudsonville:  3100 Port Sheldon Rd.  (616) 669-0040.
Please remove pills from the pill bottles and place them in a plastic bag before dropping them off at the site of your choosing.  If you have questions about the Ottawa County's unwanted medication collection program, please call 616-393-5645
Clean-up Our River Environment – www.COREmichigan.org
Changes for Area Code Dialing
Michigan Township Insights
10-digit dialing to be required for all calls in 616, 810, 906 and 989 area codes
Michiganders in the 616, 810, 906 and 989 area codes will have to use those area codes when dialing even for local calls starting on Oct. 24 this year, the Michigan Public Service Commission recently announced. However, callers are urged to start dialing all 10 digits beginning April 24 to get used to the new requirement. People who dial only seven digits will still be connected during this "permissive dialing period." However, on Oct. 24, the change becomes official, and local calls dialed with only seven digits may not be completed. The reason for the change is that 988 has been designated by the federal government as the abbreviated three-digit code to reach the National Suicide Prevention Lifeline. Any area code that includes the 988 prefix must transition from seven-digit dialing to 10-digit dialing. Customers in other Michigan area codes aren't affected by these changes at this time.