---
---
---
Robinson Township Board Meeting
A regular meeting of the Robinson Township Board will be held on Wednesday, April 14, 2021 at 7:00 pm at the Robinson Township Hall, 12010 120th Ave. Grand Haven, MI 49417. Remote electronic access will be provided via Zoom, Meeting ID #897 439 5588 passcode: Robinson Phone: 1 646 558 8656, Meeting ID #897 439 5588; Phone passcode: 52478095
Maximum occupancy of 25 people in Township Hall meeting room with masks required and social distancing.
---
Robinson Township Office Information
The Robinson Township office has resumed our normal business hours.

We would ask that you would follow CDC guidelines when you come to the office including social distancing and the use of face masks.
Our drop box is available if you would prefer not to come inside or if you come after hours.  The drop box is located between the township office and the fire station.
Township News
&

Information
US-31 Lane Closures
Lane closures for road and bridge work will be in effect Monday morning, March 22, 2021 through the end of May on US-31 from Jackson St. to 3rd St.  7th St. will be closed at Madison St. with no access to northbound US-31. Eastbound and westbound Jackson St. will have one turn lane open to head north on US-31. Through and southbound movements from Jackson St. will remain open.
Master Land Use Plan Update
Robinson Township Planning Commission
Master Land Use Plan Update
The Robinson Township Planning Commission is updating the Master Plan and needs your help! A community survey has been launched for your input regarding land use within the Township and the future of development. Please enter the following link in a web browser or scan the QR code to access the survey. If you prefer a hard copy, they are available at the Township Hall. Thank you for your contributions to this process!
https://www.surveymonkey.com/r/PlanRobinson
For updates and information about the Master Plan process, please be sure to visit the following social media pages or the project website:
Here are the links to the project websites:
Project Website: https://www.freshcoastplanning.com/planrobinson
Facebook:  https://www.facebook.com/PlanRobinson
Twitter: https://twitter.com/PlanRobinson
Special Election - May 4, 2021
Polls will be open on May 4, 2021 from 7 AM – 8 PM for in person voting.  To request an absentee ballot application, please contact the clerk's  office at 616-846-2210 or you may apply on-line by clicking here:  Michigan On Line Ballot Application Tool
This page provides helpful information about where to find your clerk, polling place, and sample ballots.  Click here:  Your Voter Information
Ottawa County's Website - Securing Your Vote
Ottawa County has created a website which explains in detail how we make sure elections are secure while at the same time making sure every vote counts.
The link to this website is here:
Water at the Cemetery
The water at the cemetery is back in working order!  Water spigot's are located along the north fence line.
PFAS
On October 29, Robinson Township was informed that the Ottawa County Department of Public Health and Grand Haven Public Schools were notified of elevated levels of PFAS at Grand Haven's Robinson Elementary School. School leaders immediately restricted access to drinking water in the building; bottled water is being provided to the school. Other than Robinson Elementary, all other schools in the Grand Haven Public School District are served by Northwest Ottawa Water System. This system has been tested and the results were as below health advisory levels.
The Ottawa County Department of Public Health (OCDPH) is working with the Michigan Department of Health and Human Services (MDHHS), Michigan Department of Environmental Quality (MDEQ), Grand Haven Area Public Schools (GHAPS) and Robinson Township to take appropriate measures and develop an action plan to help ensure the water residents are drinking meets appropriate state and federal standards.
For more information, click here:
Flag Retirement Box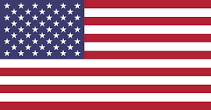 Through a partnership with the National Flag Foundation and the National Sheriff's Association, the National Association of Counties is providing free flag retirement boxes to member counties, including Ottawa.
Flags deposited in the boxes will be collected and respectfully disposed of according to the U.S. Flag Code. Depending upon response, the Ottawa County box will be rotated on a monthly basis among County facilities. To start, it will be placed in the lobby of the Fillmore Administration Building near the boardroom.
For more information, visit miottawa.org.
Robinson Township History Books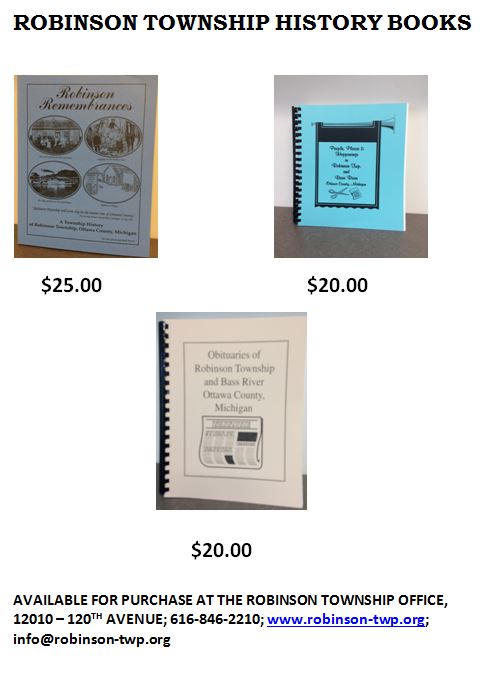 Medication Disposal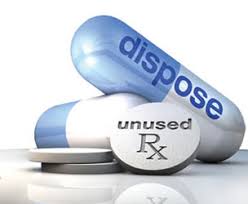 Medication Disposal
Don't Flush unwanted meds!…instead, safely dispose of your personal medications at any of the listed sites located in Holland, Grand Haven, Spring Lake and Hudsonville during regular business hours.  Call for their latest hours.
Grand Haven Township Admin Office:  13300 168th Ave. (616) 842-5988.
Grand Haven Police Dept. Admin Office:  525 Washington Ave.  (616) 842-3460.
Spring Lake Police Dept. Admin. Office:  102 W. Savidge St. (616) 842-1889.
Holland:  12251 James St.  (616) 396-5266.
Hudsonville:  3100 Port Sheldon Rd.  (616) 669-0040.
Please remove pills from the pill bottles and place them in a plastic bag before dropping them off at the site of your choosing.  If you have questions about the Ottawa County's unwanted medication collection program, please call 616-393-5645
Clean-up Our River Environment – www.COREmichigan.org