Township News
&

Information
Update - Road Reconstruction: Johnson ST Paving Work Suspended
Update 8/5/19 –
Robinson Township has been informed that workers at the company contracted to pave Johnson Street have gone on strike.  As a result of this, the paving of Johnson Street is being delayed until this situation is resolved.
Road Reconstruction: Johnson St., Robinson Twp.
WHEN: Beginning June 3, 2019
WHERE: Johnson Street, from 120th Avenue east one mile, Robinson Township.
WHY: Road Reconstruction
BACKGROUND: The Ottawa County Road Commission and Robinson Township have scheduled road construction on Johnson Street from 120th Avenue east one mile.
Work on this project will consist of clearing and grubbing of trees, culvert placement, placing of aggregate and HMA courses, and aggregate shoulders.
The road will be closed to through traffic until the road re-opens at the completion of the project. Access will be maintained on the road for local traffic and emergency vehicles only.
Work is anticipated to begin the week of June 3, 2019. Completion is scheduled for Aug. 2, 2019.
As with all construction projects, these dates are dependent on weather and other factors. Please check Ottawa County's website, http://www.ottawacorc.com/ for the most up-to-date information.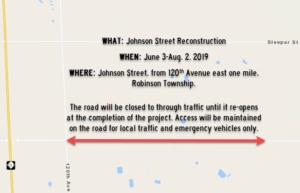 Gravel Roads Brining Schedule
The Robinson Township Board Meeting approved "Mineral Well Brine" for the brining of our gravel roads on the following dates:
July 5
August 15
Hemlock Woolly Adelgid Information
Spring is when most creatures start to wake up from the cold of winter to begin their lifecycles once again. There is an invasive pest however, that has used the winter months to slowly feed on hemlock shoots and branches and develop into adults in the spring.
This invasive pest is the hemlock woolly adelgid, an aphid-like insect that sucks the nutrients from hemlock trees, slowly killing them over time.
For more information, please see the attached article provided by Ottawa County's Department of Natural Resources:  Hemlock Woolly Adelgid Information
PFAS
On October 29, Robinson Township was informed that the Ottawa County Department of Public Health and Grand Haven Public Schools were notified of elevated levels of PFAS at Grand Haven's Robinson Elementary School. School leaders immediately restricted access to drinking water in the building; bottled water is being provided to the school. Other than Robinson Elementary, all other schools in the Grand Haven Public School District are served by Northwest Ottawa Water System. This system has been tested and the results were as below health advisory levels.
The Ottawa County Department of Public Health (OCDPH) is working with the Michigan Department of Health and Human Services (MDHHS), Michigan Department of Environmental Quality (MDEQ), Grand Haven Area Public Schools (GHAPS) and Robinson Township to take appropriate measures and develop an action plan to help ensure the water residents are drinking meets appropriate state and federal standards.
For more information, click here:
Reflective Address Signs

If you would like to order a sign, please see the order form link on the left side of the web page.  Cost is only $15.
These forms need to be submitted to Grand Haven Charter Township:
13300 168th Ave
Grand Haven, MI 49417
Phone: (616) 842-5988
Properly displayed house numbers allow emergency personnel to RESPOND MORE QUICKLY to an emergency!
Grand Haven Township Fire/Rescue and Robinson Township Fire Departments are encouraging all residents to properly display their address.
To assist the residents, the township has begun processing orders for HIGHLY REFLECTIVE GREEN address signs that can be displayed near the street. The signs may be displayed on a pre-existing mail box or on a post near the end of your driveway, visible from the street. If your mailbox does not sit on the same property as your house (i.e. across the street) or is clustered together with several other mailboxes, it is suggested that your new sign be installed on a post near the end of your driveway, visible from the street.
In an emergency…if we can't find you…WE CAN'T HELP YOU!!!
Endorsed by Muskegon, Oceana and Ottawa County Emergency
Services, 911 director and the Ottawa County Fire Chiefs Assoc.
Especially effective at night
Numbers on both sides (white over green)
Rust and weather proof heavy gauge aluminum
Flag Retirement Box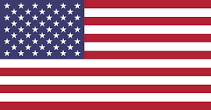 Through a partnership with the National Flag Foundation and the National Sheriff's Association, the National Association of Counties is providing free flag retirement boxes to member counties, including Ottawa.
Flags deposited in the boxes will be collected and respectfully disposed of according to the U.S. Flag Code. Depending upon response, the Ottawa County box will be rotated on a monthly basis among County facilities. To start, it will be placed in the lobby of the Fillmore Administration Building near the boardroom.
For more information, visit miottawa.org.
Robinson Township History Books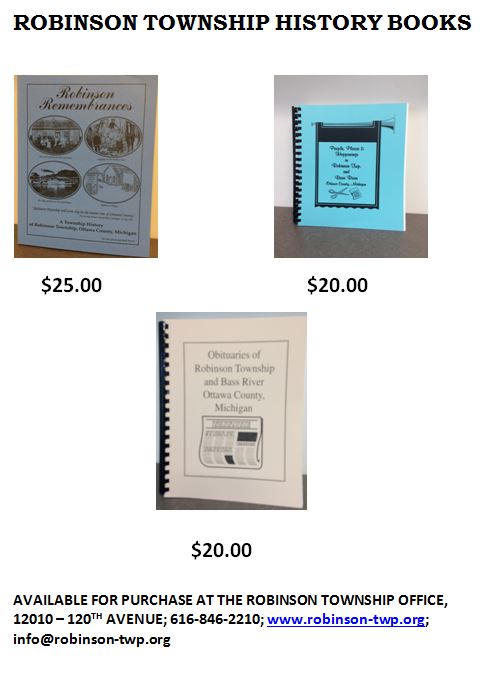 Medication Disposal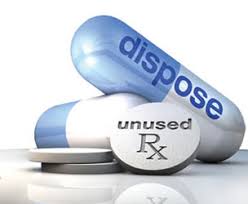 Medication Disposal
Don't Flush unwanted meds!…instead, safely dispose of your personal medications at any of the listed sites located in Holland, Grand Haven, Spring Lake and Hudsonville during regular business hours.  Call for their latest hours.
Grand Haven Township Admin Office:  13300 168th Ave. (616) 842-5988.
Grand Haven Police Dept. Admin Office:  525 Washington Ave.  (616) 842-3460.
Spring Lake Police Dept. Admin. Office:  102 W. Savidge St. (616) 842-1889.
Holland:  12251 James St.  (616) 396-5266.
Hudsonville:  3100 Port Sheldon Rd.  (616) 669-0040.
Please remove pills from the pill bottles and place them in a plastic bag before dropping them off at the site of your choosing.  If you have questions about the Ottawa County's unwanted medication collection program, please call 616-393-5645
Clean-up Our River Environment – www.COREmichigan.org
NOCHS: 100 Years of Health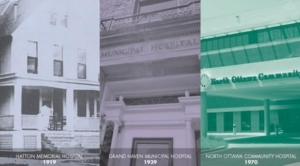 100 Years of Health
Why do you live here?
Have you ever stopped to think about what draws you to this community? Maybe you adore the water and can't get enough beach and boardwalk. Maybe your family loves the schools, vibrant downtown districts, parks and bike paths, or the bustling farmer's markets. Or maybe you identify deeply with the sense of pride that drives people to shop, volunteer and give local.
Whatever your reason, it probably boils down to this:
You live here because this community prioritizes the things that matter to you and your family.
And there is a long line of people, who came before you, who made exactly the same choices.  It began with our community's founders, who took thoughtful, deliberate steps to create an infrastructure that would guarantee much of the quality of life we all enjoy today. One of the earliest and most important actions they took was establishing local health care…a bold move for a community of this size.
These leaders (whose names are still celebrated today) donated the building, the funds and the time to bring a vision of health and well-being to life. They believed that a hospital was central to a sustainable community, and that it mattered enough to merit significant investment.
One hundred years ago, our community chose to make itself better through local health care. We're still making that choice today.
North Ottawa Community Health System is celebrating its 100th birthday this year. And it's a milestone to be celebrated as one – one mission, one family, one community. After all, the health system is here for all of us.
Come celebrate with us, and learn about the incredible pioneers who explored the frontiers of health care right in this community. This is a year to be proud of our community, our health, and our freedom to invest in what matters most to us.
Celebrate what matters. Connect with us.
Want to join the fun and festivities of this birthday year?
Watch the Grand Haven Tribune for stories and announcements
Follow us (North Ottawa Community Health System) on Facebook for fun facts and event notices
Sign up for our monthly e-news at nochgetbetter.com
With our best wishes for a healthy new year,
Your neighbors on the North Ottawa Community Health System Board of Trustees
Jeff Beswick, Chairman 
Joy Gaasch, Vice Chair (Grand Haven Township)
Judith W. Hooyenga, Secretary
Tim Parker, Treasurer
Gordon Gallagher, Spring Lake Township          
Tom Godfrey, Ferrysburg              
Tami Harvey, City of Grand Haven        
Eric Hayward, Robinson Township
Claire Sheridan, Crockery Township                       
Tim Barron, MD (at large)          
Darren Riopelle, DDS (at large)